---
Stereoscopic Displays and Applications
Demonstration Session
---

The annual Stereoscopic Displays and Applications (SD&A) conference Demonstration Session is an extremely valuable and diverse collection of stereoscopic imaging/display products in one location. The SD&A Demonstration Session originally started as an informal display of equipment in support of presentations given at the conference, but today has evolved into a significant event that also includes demonstrations of commercial products (software and hardware) from companies worldwide. Over the years, a wide range of products have made their US debut at the SD&A conference.

The SD&A Demonstration Session is your perfect chance to see a wide range of stereoscopic display products in one place. See the displays. Compare different products. Ask questions. Make your purchasing decision. The only way to really appreciate a stereoscopic display is to see it with your own two eyes.

You can gain an appreciation for the SD&A Demonstration Session by viewing the summaries of previous sessions:
2019, 2018, 2017, 2016, 2015, 2014, 2013, 2012, 2011, 2010, 2009, 2008, 2007, 2006, 2005, 2004, 2003, 2002, 2001, 2000, 1999, 1998, 1997, 1996

When:

The next SD&A Demonstration Session will be held as part of the 2020 Stereoscopic Displays and Applications conference, which in turn is part of the IS&T Electronic Imaging: Science & Technology Symposium. The Demonstration Session includes displays from the entire Electronic Imaging Symposium.

To Attend:

All registered attendees of the Stereoscopic Displays and Applications conference and the Electronic Imaging Symposium are automatically entitled to attend the SD&A Demonstration Session. You can register here.

Demonstration Session Entry passes are also available for a small fee from the front registration desk - however this will not entitle you to attend any of the other sessions of the Stereoscopic Displays and Applications conference.

To Exhibit:

All SD&A conference authors may request one free half table space to demonstrate hardware or software in support of their conference presentation. Tables are not transferable.

Tables at the Demonstration Session are available to Individuals, Businesses and Companies at a cost.

Those interested in registering for demonstration space should complete the registration form: available in November

More information about registering for the demonstration session will be available when the advance program is announced.

A limited number of demo session exhibit fee waivers are available. Please email your request and justification by 14 December.

Official Sponsors of the Stereoscopic Displays and Applications conference are also accorded one demonstration space. Sponsorship information is available here.

Potential commercial exhibitors should also consider exhibiting at the symposium wide Electronic Imaging Exhibition .


2014 Demonstration and Poster Session.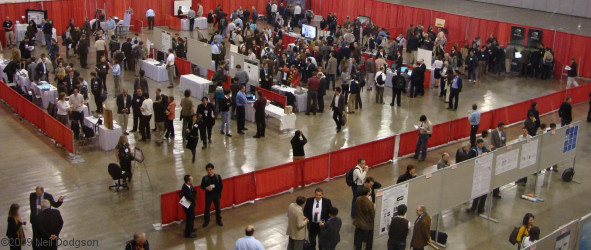 2009 Demonstration and Poster Session.
See also - previous year demonstration sessions:
[ 2019, 2018, 2017, 2016, 2015, 2014, 2013, 2012, 2011, 2010, 2009, 2008, 2007, 2006, 2005, 2004, 2003, 2002, 2001, 2000, 1999, 1998, 1997, 1996 ]