---
The 2021 SD&A Demonstration Session
---
The SD&A Demonstration Session has run every year since 1990. This year the Demonstration Session was very different - it was run online using a website called Gather.Town thanks to the special organisational efforts of Bjorn Sommer.
Demonstrations at the 2021 event included:
Takashi Kawai from Waseda University (Japan) introduced an award ceremony held in a virtual space by the Japan Chapter of the Advanced Imaging Society titled "Application of 3D Avatars in a Virtual Event"
Chris Ward and Dan Lawrence from DepthQ (USA) demonstrated their DepthQ VR AQUA experience.
Bjorn Sommer from the Royal College of Art (UK) presented the working prototype for his paper Hybrid Stereoscopic Photography - Analogue Stereo Photography meets the Digital Age with the StereoCompass app".
Andrew Woods from Curtin University (Australia) demonstrated the method of testing passive-polarised 4K 3D TVs for correct operation using a simple test pattern.
Eric Kurland from 3-D Space Museum (USA) demonstrated his live 3D video streaming studio solution which he used for the 2021 SD&A 3D Theater Session.
Pawel Achtel from Achtel.com (Australia) presented his 3D Film Services and Equipment for Giant Screen and IMAX Cinema.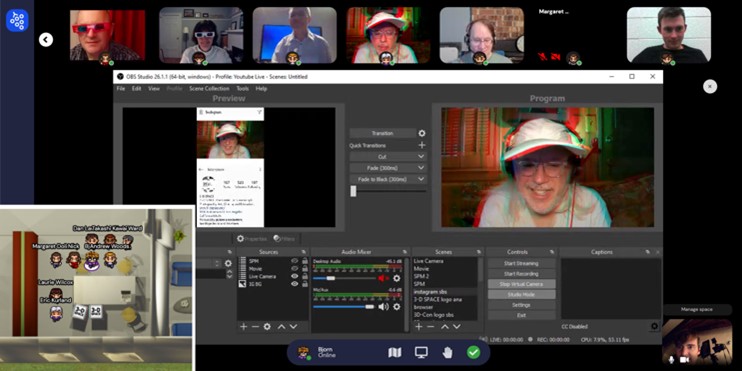 Eric Kurland from 3-D Space Museum demonstrated his live 3D video streaming studio solution using OBS Studio and other tools. You will also notice Eric's Gather.Town booth was crowded with attendees – bottom-left of image.
More information about, and additional photographs from the demonstration session are available in the conference proceedings preface.