---
Photo Album of the
Stereoscopic Displays and Applications XVIII (2007) Conference
---
The Conference
The collection of photographs on this page illustrate contributions during the 2007 Stereoscopic Displays and Applications conference.
This year's keynote was presented by James Fergason of Fergason Patent Properties, entitled "A Look at the Past and Future of Stereoscopic Displays Through a '(Liquid) Crystal Ball'." More information about his presentation is available in the conference proceedings introduction.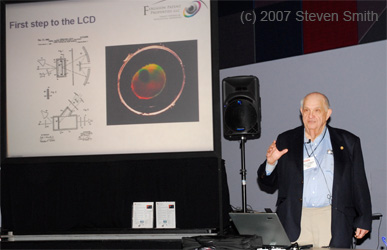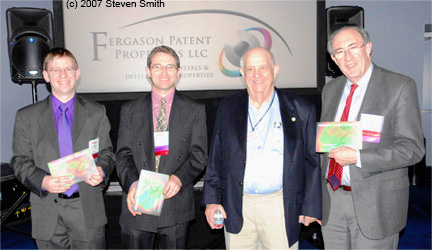 [1,2] Pictured above are (left photograph) James Fergason during his presentation, and with the conference chairs (right photograph: left to right) Neil Dodgson, Andrew Woods, James Fergason, and John Merritt.


[3] Pictured above is a cross-view stereo pair of the conference chairs with James Fergason - also available as a JPS (Stereoscopic JPEG).
The ability to present high-quality large-screen stereoscopic images and video at the conference is an extremely important part of the conference.


[4] This year we had two projection systems, as shown above, on the left using a single projector with active polarisation modulator and on the right using two projectors with passive polarisation. Many thanks to all the contributors (JVC, Christie Digital, Colorlink, DepthQ Stereoscopic, and Kerner Optical) who made this possible.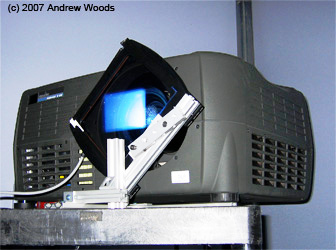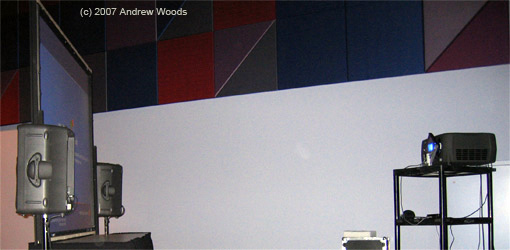 [5,6] The single projector system, shown above, consisted of a ColorLink (RealD) ALPS active polarisation modulator coupled to a Christie Mirage S+4K projector which rear projected a 4:3 aspect ratio image. The Christie Mirage S+4K 3-chip DLP projector used has a native resolution of 1400×1050 pixels and is capable of frame-sequential stereo at up to 120Hz. Colorlink provided their new ALPS polarization modulator, which was fitted to the front of the Christie projector to allow the high quality stereoscopic images from the Christie projector to be viewed passively, using circularly polarized 3D glasses.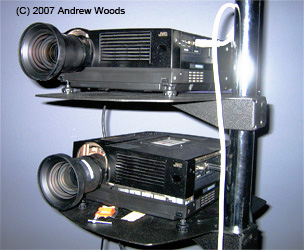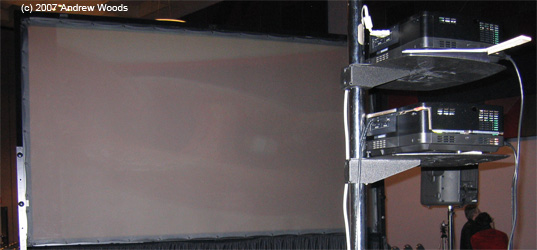 [7,8] The dual projector system, shown above, consisted of two JVC projectors with passive polarisers rear projecting a 16:9 HD image. JVC generously provided a high-definition 1080P stereoscopic projection system based on a pair of JVC DLA-HD2K-SYS LCoS projectors (which natively output left-handed and right-handed circular polarization from each projector) and an 8'×4.5' rear-projection screen.
Other equipment used as part of the conference's AV setup included: two DepthQ stereoscopic media servers (provided by DepthQ Stereoscopic - aka Lightspeed Design Group), 3D demultiplexer, 3D Scan Doubler, and DVD player (provided by Nelsonex); 8×6- foot stereoscopic rear-projection screen (provided by Kerner Optical); ImageTek 3D Scan Doubler (provided by Curtin University); and a suite of Mackie sound mixers and general AV equipment (provided by Spectrum Audio Visual). We should also say a special thanks to Kerner Optical who came to our rescue at short notice and lent us a rear-projection screen when Brad Nelson's screen was misrouted between New York and California.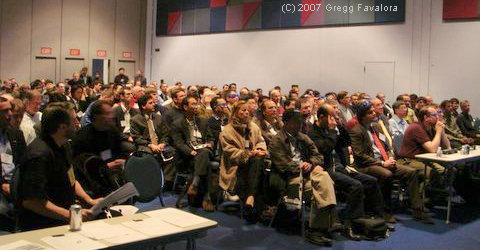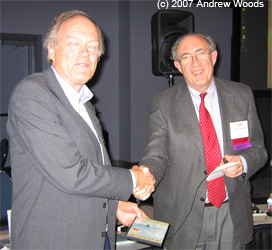 [9,10] Above left, conference presentation audience above, sessions were always well attended with high quality technical questions for presenters. Above right, John Merrit (The Merritt Group, USA) (on the right) presenting the award for the best use of presentation material in 3D to John Dammann (Army Research Laboratory, USA).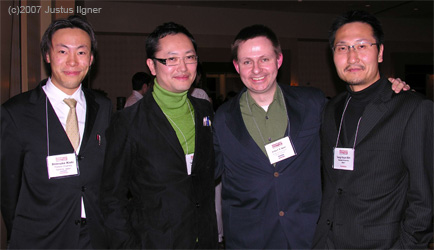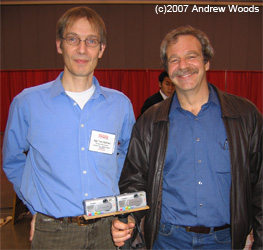 [11,12] Above left, Shinsuke Kishi and Takashi Kawai (Waseda University, Japan), Justus Ilgner (Aachen University Hospital, Germany), Sang Hyun Kim (Waseda University, Japan). Above right, Age Van Delfsen (Philips Electronics, Netherlands) and John Toeppen with stereo camera.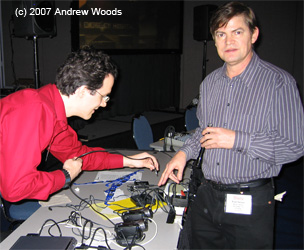 [13,14] Above left, Peter Wimmer (3DTV.at, Austria) and Brad Nelson (Kerner Optical, USA) prepare for the next oral presentation. Above right, John Korah (ColorLink, USA), Nick Holliman (Durham University, United Kingdom), ??? and Mike Robinson (ColorLink, USA).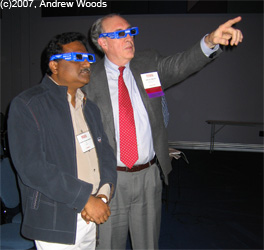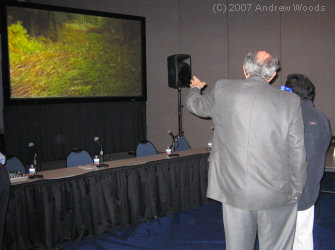 [15,16] Above, Boopathi Veerappa Gounder (DSO, Singapore) and John Merrit (The Merritt Group, USA) absorbing a 3D presentation.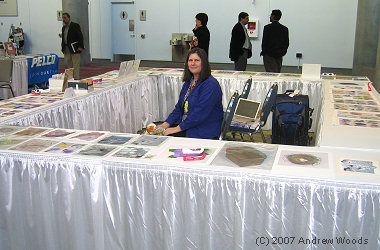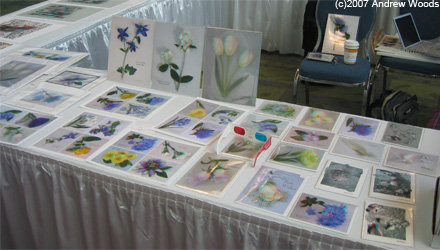 [17,18] Above, the repeatedly inspiring phantogram exhibit organised again this year by Terry Wilson.
This year's discussion forum had the topic "3D in the Home: How Close are We?". Shown in the photograph below (from left to right) are the moderator Lenny Lipton (REAL D) and panel members; Brett Bryars (United States Display Consortium), Art Berman (Insight Media), Mark Fihn (Veritas et Visus / 3rd Dimension Newsletter), Steven L. Smith, (VREX Inc). More information about the panel is available in the discussion forum page and the conference proceedings introduction.

All photographs © 2007 Steven L. Smith, Lawrence Kaufman, Andrew Woods, Gregg Favalora, or Justus Ilgner as noted on the photographs.