1999 Proceedings



1999 Photos


















---
Photo Album of the
Stereoscopic Displays and Applications X (1999) Conference
---
The Conference
This year's Stereoscopic Displays and Applications conference was again an extremely well attended event. The conference continues to bring together a wide range of people involved in the area of stereoscopic imaging. The conference provided many opportunities for attendees to mix, exchange ideas and socialise. The photograph below shows the presentation given by Stephen Benton.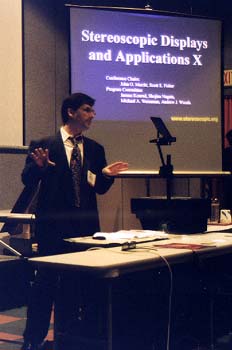 The Keynote
This year's keynote presentation was presented by Director/Cinematographer Sean Philips of Macleod Productions (Santa Monica, Calif.). His presentation discussed the various aspects of special effects cinematography working with the IMAX-3D format with particular reference to the recently released IMAX-3D movie "T-REX: Back to the Cretaceous". A more detailed examination of his presentation can be found in the conference proceedings Preface. Photo (right): Sean Philips.
The Equipment
The conference once again had a high quality collection of equipment allowing the projection of 3D videos and 3D stills.

Pictured below-left is the 3D rear-screen video projection system kindly provided by QD Technology (Los Gatos, CA). Behind the scenes, a quality collection of video equipment made it all happen: a Betacam SP deck (QD Technology), SVHS VCR (QD), a multi-standard VHS VCR (SPIE), a 3D video standards converter (Curtin University), a field-sequential demultiplexer (QD), two QD7500 line doublers (QD), two high-brightness XGA resolution LCD video projectors (fitted with polarizers) (QD) and the "3D Black Screen" stereoscopic rear projection screen (QD). A pair of 35mm slide projectors fitted with polarizing filters were also provided to allow the projection of stereoscopic slides onto a silvered projection screen.
| | |
| --- | --- |
| | Lowell Noble (left) and Brad Nelson (right) of QD Technology provided this year's stereoscopic video projection system. Pictured centre is David Mark. |
3D Footage
In addition to many of the presenters using stereoscopic projection during their presentations, we also organised a special 3D video screening session on the Monday night. A full list of the videos shown during the session is provided in the conference proceedings Preface.
People
The conference is a good chance to meet and chat with others working in the field of stereoscopic imaging.

| | |
| --- | --- |
| John Merritt, Christopher Tyler, Sean Philips and Vivian Walworth chat after the keynote presentation. | Shojiro Nagata, Lenny Lipton, Michael Naimark and Scott Fisher. |
| | |
| --- | --- |
| Lawrence Kaufman couldn't resist getting Lenny Lipton to sign his copy of Lenny's book "...." while Scott Fisher looks on. | Lenny Lipton, Andrew Woods and John Merritt. |
| | |
| --- | --- |
| &nbsp | The conference committee would like express its gratitude to the people at SPIE for their support during the year in preparing for the conference and during the meeting for their technical support. Pictured here are Ed Lake, Jeanne Anderson and James Bell (all of SPIE). |

All photographs &copy 1998 Andrew Woods.

---
[Home] [1999: Contents, Preface, Committee, Photos: Conference, Demonstrations, Dinner] [Committee]
[ 2024, 2023, 2022, 2021, 2020, 2019, 2018, 2017, 2016, 2015, 2014, 2013, 2012, 2011, 2010, 2009, 2008, 2007, 2006, 2005, 2004, 2003, 2002, 2001, 2000, 1999, 1998, 1997, 1996 ]
---

---
Maintained by: Andrew Woods
Revised: June 16, 1999.